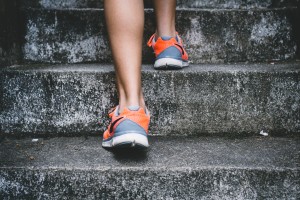 Whether you're looking for something active to do while on vacation or you want to try something new, there's plenty of fitness classes and activities available in Summit County.
The beauty of exercising in this neck of the woods is the stunning scenery. As you hike along a trail or bike across one of our soaring summits, you'll constantly be distracted by the breathtaking views…a perfect way to push yourself further without even realizing!
Below, we've compiled some of the best ideas for getting fit in Frisco.
Getting Fit in Frisco with Yoga in the Park
It doesn't matter if you're a yoga fanatic or completely new to this sport because there are plenty of classes in Frisco available to people of all ages and abilities.
Having teamed up with two yoga studios, the Town of Dillon has created a number of yoga sessions that take place in some idyllic outdoor locations. On Sundays and Tuesdays, you can enjoy yoga at Point Dillon Park and Lawn with a class that focuses on align and flow. The Sunday sessions run from 10:00am to 11:30am, while the Tuesday classes are held from 6:00pm to 7:15pm.
These types of classes are also available on Saturdays and Tuesdays in the local amphitheater. However, this venue is weather dependent. Saturday classes run from 10:00am to 11:30am and the Tuesday ones from 6:00pm to 7:15pm.
Alternatively, on a Friday, you might want to embark on the Yoga at the Market sessions available in Dillon Town Park, which take place every Friday from 9:00am until September 15th. The goal of these classes is to leave you feeling rejuvenated, relaxed, and calm.
Getting the Kids Fit with the Frisco Mountain Goat Kids Trail Running Series
On August 8th, the final race in the Frisco Mountain Goat Kids Trail Running Series will take place. A number of these races are held throughout summer with the event being a great night out for the family.
The races start at 5:45pm with three courses available. The "Mini Goats" run up to 1 mile, the "Junior Goats" run up to 2 miles, and the "Senior Goats" run a 5k course. Once they've crossed over the finish line, the kids can grab their well-earned slice of pizza before joining in the celebrations with their parents at the Frisco Day Lodge.
Afterward, activities will be available, including coloring, corn hole, horseshoes and more. Parents are also welcome to accompany their kids across the race distances. Registration is available on the day up until 9:00am, or you can register online now.
Gyms in the Area
If these fun events inspire you to get fit or you want to prepare yourself for an event, there are plenty of gyms in and around Frisco.
1. Peak One Fitness – Frisco, Colorado
Within Frisco itself, you'll find Peak One Fitness, which is located on the Frisco bike path. This gym provides 24-hour access, so there's no excuse for missing its opening hours. It also provides personal training, boot camps, and 12-week transformation sessions.
2. Elevation Fitness – Dillon, Colorado
Another 24-hour gym is Elevation Fitness in Dillon. This gym specializes in personalized programs that are tailored to your unique needs. personal trainers in Seattle are also available for hire.
3. CrossFit Low Oxygen – Frisco, Colorado
Finally, if you want to find a CrossFit affiliate within the area, CrossFit Low Oxygen may be just what you've been looking for. Located in the Rocky Mountains at 9,097 feet above sea level, this is a CrossFit class with a difference! Drop-in sessions are available, which is ideal if you're just traveling through the area and want to give CrossFit a try, or you want to continue with your current program.
Whatever your fitness level and whatever your sport of choice, getting fit in Frisco is easy, fun, and something the whole family can do!
After all that exercise, it's time to relax and unwind, and what better place to do this than our luxurious boutique hotel. With spa facilities on-site, you can relax those aching muscles before treating yourself to something tasty in our dining room.