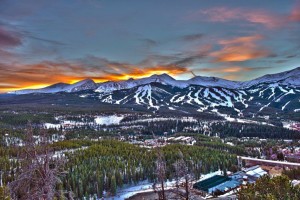 Colorado's highly anticipated ski season begins November 10, 2017, when Breck opens for the 2017/18 season. Plan your trip today to see the latest improvements such as the new high-speed, six-passenger lift, or the "Candy Cabin" located at Breckenridge's Ten Mile Station. Breckenridge Ski Resort is just 30 minutes from the Frisco Inn on Galena, a boutique bed and breakfast perfect for lodging on your trip to Breck this Winter season.
Purchase your Season Passes or Lift Tickets for 2017-2018
Make sure to purchase your Epic Pass before the November 19th for multi-day unrestricted and unlimited passes to your favorite resorts, including Breckenridge. Plan to purchase your lift tickets online for the guaranteed lowest prices. Purchase these tickets online up to midnight the night before you ski, or add days to your existing Epic Pass and head straight to the lift.
Follow Breck's Facebook & Twitter pages for the most up-to-date opening day information. For additional questions please email breckinfo@vailresorts.com or call (970)453-5000.

Improvements at Breckenridge
Thanks to a wave of recent capital improvements at the ski area meant to enhance the guest experience, Breck has made numerous improvements to the resort to be showcased during the 2017-2018 season.
The Falcon SuperChair on Peak 10 is being replaced with a new high-speed, six-passenger lift, offering an easier and faster ride up the mountain to access fun and challenging terrains meant for advanced skiers and snowboarders.
Breckenridge's Ten Mile Station is sure to satisfy your sweet tooth this season with the added "Candy Cabin", which offers a wide variety of your favorite chocolates and sweets. Pioneer Crossing will also be adding sweet and savory crepes to its impressive breakfast lineup. These additions are perfect for grabbing a sweet treat in-between ski runs.
Lodging Near Breckenridge
Located just about 20 miles away from the Breckenridge Resort, Frisco Inn on Galena is the perfect mountain inn to rest your weary feet after a long day hitting the slopes at Breckenridge. The Inn boasts ski rental valet services and discounted lift passes, amazing mountain views, gourmet meals, and luxurious amenities.
Complimentary gourmet breakfasts are made fresh every morning to fuel you for a long day on the slopes. Made-to-order espresso/cappuccino/latte drinks are available to perk you up on your way to the resort. You may also request deluxe box lunches to take with you. Return to the Inn to soak your sore muscles in our indoor/outdoor hot tubs, or to unthaw by our various fireplaces and lounge areas.
You'll want to finish up your day on the slopes early enough to make it back to the inn for a beautifully prepared happy hour, including a complimentary glass of wine, seasonal hors d'oeuvres, a soup bar with homemade bread, soup de jour, hot cider, tea, and cocoa.
Follow the link to see a comprehensive list of the many resorts near Frisco, to see current images from local resort cams, and to see current images from the front and back porch of the inn. These tools give a special preview of the beautiful views in Frisco and Breckenridge and help you visualize how much snow has fallen before your trip.
Book your trip today for your dream ski vacation in the Colorado Rockies. Contact us at info@friscoinnongalena.com or on our website to learn more about the extensive amenities offered, and to learn about discounted lift passes and ski rental services.