Fitness Center
Guests of the Frisco Inn on Galena have complimentary access to this state-of-the-art club.
At Peak One Fitness, we believe that making the most out of every moment in your day  means living a lifestyle you desire; whether that means a hike in the woods, enjoying a round of golf, skiing a longer day, cycling around lake Dillon or just wanting to reshape your body.  All of these are possible and more pleasurable when you add exercise to your over all well- being.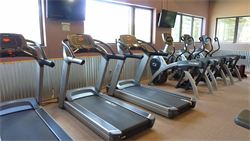 Peak One Fitness is designed around you…. your busy schedule, your late hours, your early mornings.  The locally owned fitness center is open 24/7 365 days a year!