Onsite Dining
Enjoy our Gourmet Breakfast, Box Lunches, Afternoon Happy Hour, and Dinner
The Inn's culinary offerings are a delicious, sumptuous treat for you to savor!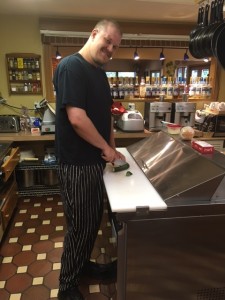 When you stay at the Frisco Inn on Galena we offer dozens of taste treats to make your visit unforgettable. Please join our executive chef, Cy Thorne and his staff, to enjoy our delicious meals and snacks. Cy's career includes a management internship at Captain's Grille at Walt Disney World. Cy attended Orlando Culinary Academy's Le Cordon Bleu program where he studied under Master Chef Michael Scott. He has also studied with Executive Sous Chef under TV's Tim Love of The Lonesome Dove Bistro in Fort Worth, Texas.
How Does Frisco Inn on Galena's Cuisine Rank vs. Other Frisco, CO Restaurants?
Our Inn was recently tied for 1st place in the Frisco Soup Challenge against chefs from all of the other Frisco restaurants and was also featured in the 2016 Taste of Frisco.
Breakfast
Breakfast at the Frisco Inn on Galena is a delicious, culinary treat! Each morning the Inn offer's renowned gourmet coffee's including your choice of a made to order espresso, cappuccino, latte, or a cold brew iced coffee. The Chef's prepare a delightful Daily Special perhaps a soufflé, frittata, or casserole, or choose from our other menu options including our signature Belgian waffles, an "American Breakfast," or "Omelette Your Way," hot and cold cereals, fresh fruit, fresh homemade bread, and pastries, yogurt, toast, orange juice, coffee, or tea.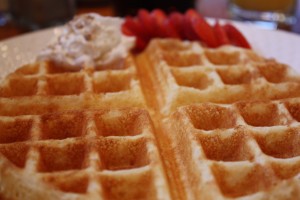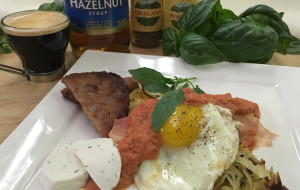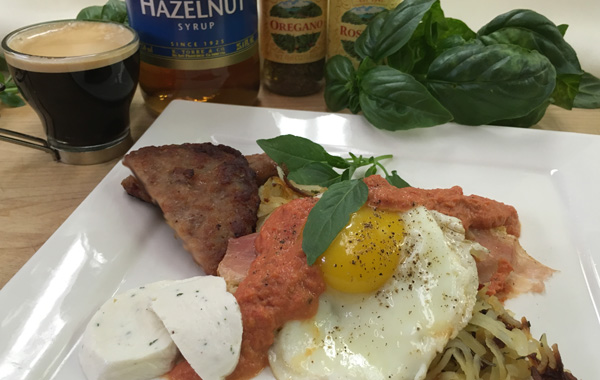 Light (Continental) Breakfast:
7:00 am–9:30 am
Full Breakfast:
7:30 am–9:30 am
---
 
Afternoon Wine and Hors D'oeuvres
After a day of enjoying Summit County's many activities, guests enjoy a beautifully prepared happy hour, including a complimentary glass of wine, and an expansive selection of seasonal hors d'oeuvres, prepared by the Frisco Inn's executive chefs. In the winter, we offer an additional soup bar with homemade bread, soup de jour, hot cider, tea and cocoa. In the summer, we feature homemade appetizers and other goodies, cookies and fresh lemonade; even a sampling of homemade ice cream can be yours! Hot tea, cocoa and light snacks are available in the lobby around the clock. Enjoy the fireplace and piano in the dining room anytime for a great way to relax. Our renowned gourmet coffee's,  select ala carte items, and desserts are available for purchase during happy hour and beyond (please inquire with our chef for availability).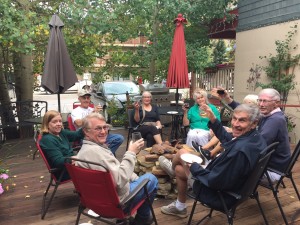 Afternoon Happy Hour – Winter: 4:30pm–6:30pm
Afternoon Happy Hour – Summer: 5:00pm–7:00pm
---
Dinner
Join us for dinner on Thursday, Friday, Saturday, and Sunday evenings for a private dining experience specially prepared for you by our chef, Cy Thorne.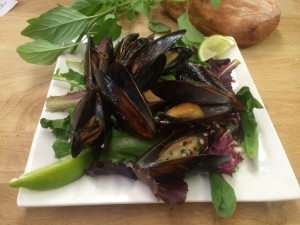 For dinner, the Inn offers a choice of our Chef's Featured Appetizer and Entree daily special or our regular Menu Selections served as a three course meal, included is homemade bread. After the main course you will be treated to a fresh, homemade dessert and a coffee of your choice. You may add any of our dining selections to your room rate package, creating a true European half-board experience. You may view our dinner menu here.
RSVP to the chef daily by 6PM on the days that dinner is offered.
We seat a limited number of tables nightly, to ensure the exclusivity of the experience, so make your reservations early.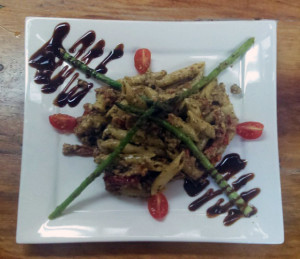 Dinner Seated:
7:30 pm Summer
7:30 pm Winter
Vegetarian, Vegan, and Gluten-Free meals specially prepared with advance request. Limited special dietary items are always available.

---
 Box Lunches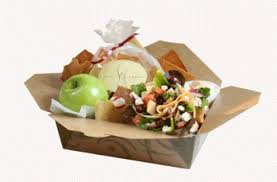 Let us prepare a deluxe box lunch for you to take to the slope, enjoy on a picnic, hike, or bike ride. Our chef will put together a gourmet sandwich or wrap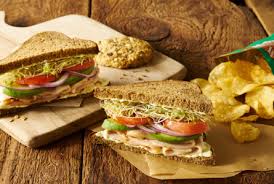 with your choice of Black Pepper Turkey Breast, Honey Ham, or Hot Capocollo. Lunch includes chips, fresh fruit, bottled water, fruit juice, a granola bar, and a cookie. Please RSVP to reception or the kitchen for it to be ready for you in the morning.
---