Lake Dillon and the Frisco Marina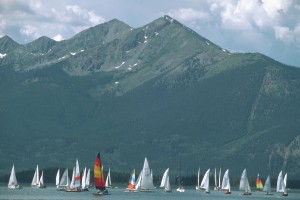 Lake Dillon is located on the east end of Main Street in downtown Frisco, just a 10 minute stroll through our historic downtown with all of the shops, restaurants, museums, and parks along the way.
The Frisco Marina is home to sailing, kayaking, canoeing, paddleboating, and much more.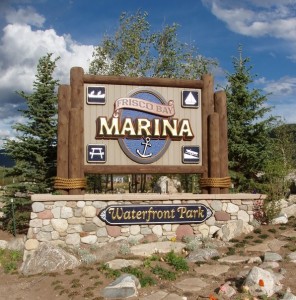 Or enjoy a scenic ride on the Lake Dillon Water Taxi.
Frisco Bay Marina
Frisco Bay Marina is a certified clean marina located on the shores of scenic Dillon Reservoir in the heart of Summit County, Colorado. The lake spans 3,300 acres and boasts 25 miles of shoreline surrounded by majestic peaks. At 9,017 feet in elevation, the boating season is very weather dependent, but typically runs from early June to early or mid September. Dillon Reservoir is in a world class for sailing and regattas are held regularly.The Frisco Bay Marina offers
A full service marina

Slips, moorings, racks, and dry storage options

Old Town and Necky canoe and kayak dealership

A full retail store for all your outdoor needs

Evinrude/Johnson outboard motor service dealership

Canoe and kayak rentals

Powerboat rentals

Sailboat lessons, rentals, tours and paddleboats rentals
Stand up paddle board rentals
Fishing pole rentals
Lake Dillon Water Taxi
Bar & Grill
Marina Park with kids playground (Perfect for picnics!)
Fiberglass and boat repair
Sail repair
Completed in December 1963, Dillon Reservoir is the largest water storage facility in the Denver Water system. The entire town of Dillon, Colorado, and a hydroelectric plant were relocated to build the dam.The dam was built to divert water from the Blue River Basin through the Harold D. Roberts Tunnel under the Continental Divide into the South Platte River Basin. Dillon Dam is an earth-fill dam, 5,888 feet long by 231 feet above the Blue River stream bed. Dillon Reservoir's surface area of 3,233 acres and 26.8 miles of shoreline support many recreational activities.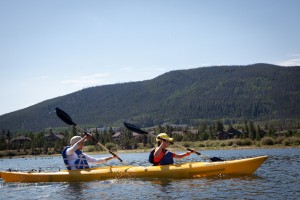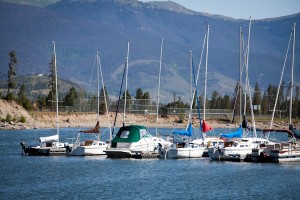 motorboating

sailboating
Boating includes boat fishing, sailboating and motorboating. Boaters must observe Summit County and Colorado Boating Statues and Regulations.Marinas are operated from the towns of Dillon and Frisco. The reservoir's high water elevation is 9,017 feet.Dillon Marina's boat ramp is unusable for most motorized craft when the water is at elevation 8971 feet. Frisco Bay Marina's boat ramp is unusable for most motorized craft when the water is at elevation 9,009 feet.Most current water elevation at Dillon.

canoeing

kayaking

rowing

small watercraft
Canoeing is permitted. Other portable water crafts allowed include kayaks, canvas boats, and inflatables.Rowing is also permitted. The Frisco Rowing Center, located at the Frisco Bay Marina, provides an opportunity for the public to learn more about rowing.Personal watercraft, including Jet Skis, are not permitted on Dillon Reservoir.

windsurfing
Windsurfing (sailboarding) is permitted with full wet or dry suits.

fishing
Both lake and stream fishing are available. Below the dam, the state designated the Blue River as Gold Medal waters. See the Colorado Parks and Wildlife's fishery survey summary for the Blue River below Dillon Reservoir. Check Colorado Parks and Wildlife for special regulations above the reservoir.

ice fishing
Ice fishing when conditions permit. Denver Water does not monitor ice conditions and those entering onto the ice should be aware of changing ice conditions and proceed at their own risk.

camping
Dillon's 344 campsites accommodate tents, pickup campers, RVs and trailers. All campgrounds have a drinking water supply. Camping is allowed in designated sites only. Most campgrounds are provided by U.S. Forest Service. Reservation number: 1-877-444-6777.

hiking

bicycling
The recreation area provides a variety of hiking and bicycle trails, including more than seven paved miles of the 50-mile Summit County trail system. The Sapphire Point trail follows a half-mile path to the scenic overlook. The Old Dillon Reservoir trail connects to the lake which supplied the drinking water for the old town of Dillon.

scenic overview
Several overlooks are available around Dillon reservoir to view the dramatic backdrop of the Gore, Williams Fork and Ten Mile mountain ranges. See area map.

hunting: fowl
Waterfowl hunting is allowed in the Dillon Reservoir Recreation Area boundaries strictly in accordance with all applicable federal, state, and local regulations.

cross country skiing
The Frisco Nordic Ski area provides a cross-country ski trail system and ski rentals.

renting
Fishing boats, sailboats, kayaks and canoes can be rented at the area shops. Sailboat tours originate from the Dillon Marina. Canoe tours, rental canoes and fishing boats also launch at the Frisco Bay Marina.