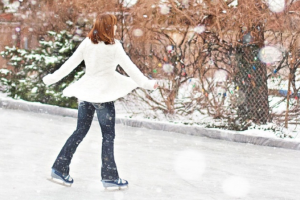 Strapping long boards to your feet and taking off on snow-covered trails is not the only wintertime fun in Summit County. Try on a pair of shorter blades and skate onto the ice at one of the many skate rinks, ponds, and lakes between Frisco and Winter Park.
Ice skating is a winter tradition as old as skiing and is fun for visitors of every age. When the average daily temperature in the high peaks is just below freezing, the ice is perfect for every skater from budding hockey and Olympic stars to couples looking for a romantic dance on ice.
With a variety of rinks, including indoor arenas and outdoor ponds, there are plenty of places to cut a figure eight or test your edges with a quick hockey stop.
Jump Back in Time
When the sun goes down and the ice is slick as John Travolta's hair in Saturday Night Fever, Winter Park's Village Pond is transformed into a dance music nightclub. Be sure to bring a pair of bell-bottoms, lace up your skates, and join other partygoers for Disco Nights on the pond.
Featuring a mix of the 70's and 80's best disco music and a mirrored disco ball that sparkles as much as the frozen ice, Disco Night is fun for everyone. Shake your groove thing or do the YMCA as you glide around the pond with skaters of all ages. Kids, don't be surprised if your parents embarrass you, and moms and dads, don't be afraid to show your age.
Room to Roam
Step onto the Adventure Center rink at Keystone Resort and the ice is like a sheet of wet glass. That's because it is the largest Zamboni groomed outdoor skating rink in the United States.
Once the Zamboni clears the ice and leaves behind a super-slick surface, the hockey boards go up for a friendly pickup game. Skate circles around the two trees in the center of the rink, or do laps around the perimeter like Apolo Ohno. There's room for everyone to have fun!
Party Like it's 19 Fahrenheit
Reserve the pavilion at Meadow Creek Pond in Frisco and host an outdoor skating party. The pavilions have built-in barbecues for the perfect mix of hot and cold in the middle of winter. Bring your own skates and steaks and fire up the grill. Warm up afterwards with a hot cocoa right off the fire.
At Dercum Square Ice Rink in Keystone, you can rent the entire rink for a private event of any kind. Host a birthday party, corporate event, or make the most of the cold with a wedding on ice — and the rental will include skates for all your guests.
A Little Bit of Nature
In summer, North Pond Park in Silverthorne is home to ospreys and other wildlife. During the winter, the frozen wetlands and pond play host to families and skaters from around Summit County.
Experience the great outdoors surrounded by the high peaks that ring Silverthorne. Practice spins in the middle of the ice-covered pond and then try to catch your breath as the stunning vistas take your breath away.
No Penalties for Icing
Don't worry if you forgot to pack a pair of ice skates. Many of Summit County's rinks and skating areas have rentals, making it easy to grab a pair of blades and get out on the ice. After all, you're on vacation and it's okay to show off before turning in for the night at one of Summit County's picturesque inns or lodges.