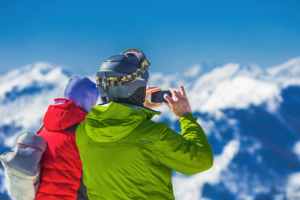 Mention Vail in your travel plans, and people are likely to be jealous. Long-revered as the premier resort for ski enthusiasts and celebrities alike, Vail beckons both newcomers and repeat visitors to its quaint European-style villages and striking mountains. It is no wonder it has gained a reputation as America's winter wonderland.
A mecca for skiers, Vail is more than just a place for strapping on a pair and shooting down a hillside. Vail visitors enjoy experiences, attitudes, images, and adventures that are unique among all others. Every vacation tale, ski story, and memory is better when it includes Vail.
Star Studded Terrain
Vail boasts more than just celebrity status and a jet-setting crowd. It offers more than 5,000 skiable acres across eight summits, bowls, and areas. It takes a lot of snow to cover all the terrain that Vail has to offer. Thirty feet of snow fall on Vail's many slopes and trails every winter, ensuring the best powder, groomed runs, and back-country skiing.
It takes more than great snow to make a ski resort like Vail famous. It takes breath-taking views and beautiful weather. Despite massive snowfalls, Vail enjoys 300 sunny days a year — meaning skiers can hit the lifts early and stay late from opening day until the last patch of snow is gone. The high number of sunny days means low humidity that makes the average winter temperatures in the upper 20s feel more comfortable, and that means more of the best skiing in North America.
Try Not to Act Like a Paparazzo
With a reputation to maintain as the playground of the famous, Vail continues to attract movie stars, pop icons, and Hollywood faces of every generation. People-watching is a professional hobby in Vail. Whether you're in the village or on the slopes, keep your eyes peeled for a glimpse of your favorite star.
Sometimes it may be difficult to spot a famous face hidden by layers of skiwear, but Vail's trendy digs are the best places to see stars like Taylor Swift and Calvin Harris on vacation. Many other well-known personalities like Tom Cruise and Oprah Winfrey have homes in the Vail area mountains, so keep your phone ready for a once-in-a-lifetime photobomb selfie.
It Takes a Village
At the end of the day, Vail's villages offer everything from world-class dining to a laid-back nightlife scene. Enjoy award-winning pizza at Vendetta's, a frequent haunt for members of Vail's renowned Ski Patrol, or share ski stories over a drink at one of the many bars, like the stylish Frost Bar where it's always warm inside.
Anyone who thinks bowling shoes went out of style in the 1950s has not been to bŏl. Vail's — and perhaps the world's — most luxurious bowling alley is bringing sleek modern style to an old game. With ten lanes, dining, and a 60-foot bar, watching the pins fall is guaranteed to be the most fun you've ever had at a bowling alley.
After a night of revelry and enjoyment in Vail, everyone is sure to appreciate the town's most distinctive and indulgent feature. Leave icy sidewalks and cold feet to the other resorts as you walk on Vail's heated pedestrian mall and cobblestone streets.
It's All About the Vibe
When it comes to unforgettable Rocky Mountain vacations, Vail offers everyone from the curious first-time skier to back-bowl pros a memorable experience. Go home with more than a ski trip, celebrity sighting, or a few pictures.
Stay local and explore Summit County before taking home the feeling that is Vail. Be your own favorite celebrity in the stories you share about your trip to America's most memorable alpine village.