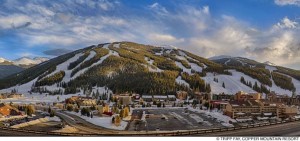 November 10th marks the opening day of Copper Mountain, and many will be traveling up to the mountains for a chance to ski one of the top 10 largest ski resorts in Colorado with 2,490 skiable acres. Copper includes over 140 marked trails and 23 total chair lifts. The resort has even become an official U.S. Ski Team downhill training venue, so you may be able to see a racer zooming past at up to 75 mph at the Speed Center at Copper.
The Best Resort for Newcomers and Experts Alike
One of the best reasons for beginners to ski at Copper is the way it's divided, with easier greens in West Village and more difficult runs to the east. It's one of the only naturally divided resorts in the area, so newcomers don't need to be concerned about taking a wrong turn down a black diamond, or having experts zooming past while they learn.
Copper offers group and private ski and snowboard lessons. Although your friends or family may offer to teach you, we recommend taking a lesson with one of Copper's highly trained instructors to make sure your first time is safe and enjoyable. Group lessons are a great way to learn and meet new friends, or a private lesson may be the best option for you. See all of Copper's lesson options here.
For expert skiers and riders, check out the free Tucker Mountain Snowcat Ride. With the purchase of a season pass or lift ticket, you will receive access to 273 acres of the some of the best powder runs around. The Snowcat runs from 10 AM until 1:30 PM every Friday, Saturday, and Sunday. This is the closest thing you'll find to a backcountry experience at any Colorado Resort.
Preparing for Copper
Jump on a shuttle from Denver International Airport to Copper Resort, take a ski bus, or rent a car to make your mountain trip more convenient. See options for how to get to the resort.
Parking is available in several interior lots off of Copper road, or free parking is available in the Alpine Lot. See a map of Copper Resort for more details.
Purchase your lift ticket at any ticket window in Center, West, or East Village. Or purchase tickets online here before your trip. Buy adult, child or senior, single-day, multi-day, lift tickets and rentals online and save up to 54% off regular prices. Purchases must be made at least 1 day in advance to receive the discount. For a great deal make sure you get your tickets early!
Book your Ski & Snowboarding lessons to make sure you are ready to hit the slopes with confidence.
Purchase Rental Gear throughout Copper's village. Copper's experienced rental staff will fit you with proper equipment, can check to make sure your equipment is properly adjusted and will educate you on helmet use.
Enjoy skiing or snowboarding down Copper's numerous trails and try some alternative Copper Mountain activities such as tubing or mountain tours free with the purchase of a season pass or lift ticket.
When your stomach starts grumbling, head to the village for plenty of delicious food and beverage options. See the complete list here.
Copper Mountain Updates
Needing quick information on the resort during your stay? Check out Copper Mountains' new app for smart devices to get the latest snow conditions, ticket prices, or any other information you will need on the mountain.
The first radio-frequency identification technology (RFID) gates have been installed at the American Eagle lift. Installation at the rest of the base area lifts continues. RFID is the use of radio waves to read information stored on a tag attached to an object. At the Resort, an electromagnetic chip inside of a plastic card will prompt gate to open. Check out this FAQ sheet regarding the latest resort technology.
Located only 7 miles away from Copper Mountain Resort, is the Frisco Inn on Galena, an ideal boutique bed & breakfast to rest your weary body after a day of fun on the slopes. Book your trip today for your dream ski vacation in the Colorado mountains.