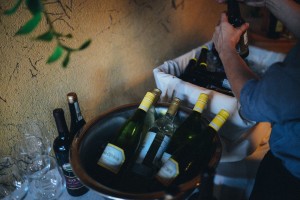 What's better than attending a fine wine festival with some of the world's most revered wines?
Attending one of these festivals at high altitude.
And that's exactly what you can do throughout September in Summit County. With two must-visit wine tasting events taking place this month, what better time to visit the area and enjoy a glass of wine (or two) surrounded by the breathtaking mountain views?
Breckenridge Wine Classic, Summit County
From Thursday, September 14th until Sunday, September 17th, Breckenridge, Colorado, will be transformed into a premier destination for the Breckenridge Wine Classic event. Here, culinary geniuses, master winemakers, and special guests meet to wine, dine, and play in this stunning location.
With over 100 wineries, breweries, food artisans, distilleries, locally made products, and epicurean purveyors joining together, this is the go-to place for an out-of-this-world wine and food experience. Whether you're an amateur foodie or a full-fledged wine connoisseur, you'll definitely find something to whet your appetite at this prestigious event.
From cook demonstrations to food and wine tastings, mixed with outdoor adventures that also involve wine and food, there's something for everyone, with tempting dishes and tasty treats around every corner.
For example, on Thursday, September 14th, you might want to join in with the Farm to Fork Wine Dinner. Taking place at the TenMile Station, this is a true celebration of fine wine and food. You'll experience a five-course meal and expertly chosen wine pairings while taking in panoramic views of the mountains. Tickets cost $125 per person with shuttle buses running to and from the event.
Or, for something a little more active, you could get involved in the Pinot Passport Hike. Happening on Saturday, September 16th, this 2.5-mile hike will see you trekking across the trails of Breckenridge. Walking along Peak 9 on the Burro Trail, you'll take in the jaw-dropping views of the Tenmile Range and Resort before stopping to enjoy lunch and wine at the mountain's base. You'll be given an introduction into Pinot Noir, tasting the different expressions of this fabulous wine from New Zealand, Oregon, California, and Burgundy. Tickets are $75 per person.
For a full list of schedules and for further information on ticket prices, visit the Breckenridge Wine Classic website for details.
Taste of Vail Event, Summit County
Another event that's jam-packed full of exceptional food and wine is the Taste of Vail event, which takes place on Saturday, 23rd September. With a variety of events to choose from, this is the perfect excuse to indulge in some tasty cuisines while also getting involved in a new activity.
From 10:00 to 13:00 you might want to embark on the Taste of Vail Bike and Brunch tour, which will see you gliding down the Pass surrounded by breathtaking fall colors. The tour ends at Matshuisa where you'll enjoy a well-earned brunch. Tickets cost $80 per person.
Alternatively, if you're partial to a bit of fishing, or you've always wanted to try your hand at it, the Fall Fly Fishing with the Masters event could be for you. Here, you'll head to the Creeks in Vail to watch trout swimming in the crystal clear waters, with beginner and advanced classes available. Once you've got the catch of the day, you'll head into town for brunch. Tickets are $180.
Finally, why not end the day perfectly by attending the Fall Wine & Food Classic Grand Tasting, which runs from 16:00 to 19:30? This gives you the perfect chance to explore wine and food from the Southern Hemisphere, enjoying live music while you dine. The event features all of the restaurants and wineries taking part in the Taste of Vail, allowing you to enjoy a picnic on the grass at the Gerald Ford Amphitheater. Tickets are $60.
Other events are running on Saturday, so check out the Taste of Vail website for full details and to book your tickets.
Need somewhere to stay while you're enjoying all of the exquisite wine and food on offer at these events? Then where better than the Frisco Inn on Galena, which offers high-quality accommodation in the heart of Frisco, Colorado?